Jocko Podcast Books From The Episodes
"Transformed: A Navy SEAL's Unlikely Journey from the Throne of Africa, to the Streets of the Bronx, to Defying All Odds", by Remi Adeleke
(From Episode 400)
What would it take for one young Black man not only to rise above statistics but also become a Navy SEAL, actor, entrepreneur, writer, and successful husband and father?
In Transformed, Remi Adeleke takes you back to stories from his childhood, from living as Nigerian royalty to losing his father early in life and being stripped financially of everything by the Nigerian government. Following his father's death, he and his mother and brother relocated permanently to the Bronx where his single mother struggled to provide for the family.
"The 32 Principles: Harnessing the Power of Jiu-Jitsu to Succeed in Business, Relationships, and Life", By Rener Gracie
(From Episode 399)
Jiu-jitsu is more than a martial art; it is a lifestyle that promotes health, confidence, self-determination, and balance. Famed jiu-jitsu instructor Rener Gracie, who has coached more than 350,000 students in 196 countries, presents the core teachings of jiu-jitsu and explains how they can apply to all of our daily lives.
"Outlive", by Dr. Peter Attia (From Episode 392)
A groundbreaking manifesto on living better and longer that challenges the conventional medical thinking on aging and reveals a new approach to preventing chronic disease and extending long-term health, from a visionary physician and leading longevity expert.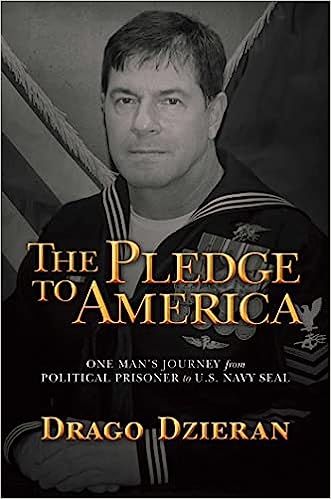 "The Pledge to America: One Man's Journey From Political Prisoner to U.S. Navy SEAL", by Drago Dzieran 
"One of the most powerful books I've read in a long time." —Dan Bongino
Retired Navy SEAL Drago Dzieran takes readers behind the scenes of his incredible life, from an impoverished childhood in Communist-controlled Poland to his time as a political prisoner, to his twenty years as a member of the United States military's most elite fighting force.
"Kimura: The Triumphs and Tragedy of One of Judo's Greatest and Most Controversial Judo Champions", by Christopher M. Clarke (From Episode 378)
Everyone who has watched a Mixed Martial Arts (MMA) match or tournament has heard of "the kimura," a specialized arm lock that many people try to use, but few are successful in applying. Few, even among jujutsu and MMA aficionados, however, know what the lock called a "kimura" was derived from an early link to karate as well as judo and jujutsu.
"Saving Aziz: How the Mission to Help One Became a Calling to Rescue Thousands from the Taliban", by Chad Robichaux (From episode 375)
It was the right thing to do. And someone had to do it.
Aziz was more than an interpreter for Force Recon Marine Chad Robichaux during Chad's eight deployments to Afghanistan. He was a teammate, brother, and friend. More than once, Aziz saved Chad's life. And then he needed Chad to save his.
"The Attributes: 25 Hidden Drivers of Optimal Performance", by Rich Diviney  (From Episode 374)
Do you have what it takes to succeed in any situation? According to a retired commander who ran training for Navy SEALs, true optimal performance goes beyond just skill. It's all about THE ATTRIBUTES.
"Up From Slavery: An Autobiography by Booker T. Washington  (From Episode 373)
I was born a slave on a plantation in Franklin County, Virginia. I am not quite sure of the exact place or exact date of my birth, but at any rate I suspect I must have been born somewhere and at some time. As nearly as I have been able to learn, I was born near a cross-roads post-office called Hale's Ford, and the year was 1858 or 1859…."
"Defend Us In Battle: The True Story of MA2 Navy SEAL Medal of Honor Recipient Michael A. Monsoor", by George Monsoor and Rose M. Rea  (From Episode 359)
On September 29, 2006, Michael Monsoor and two SEAL snipers watched vigilantly for enemy activity from their rooftop post in Ar Ramadi, Iraq. When a grenade thrown from insurgents bounced off Michael's chest, he could have escaped. Instead, he threw himself onto the live grenade, shielding his fellow soldiers from the immediate explosion. Michael died thirty minutes later, having made the ultimate sacrifice.
"House to House", and "Remember the Ramrods", by David Bellavia (From Episode 357)
"Never Split The Difference: Negotiating as if Your Life Depended On It", by Chris Voss (From Episode 354)
A former international hostage negotiator for the FBI offers a new, field-tested approach to high-stakes negotiations―whether in the boardroom or at home.
"Always Faithful: A Story of the War in Afghanistan, the Fall of Kabul, and the Unshakable Bond Between a Marine and an Interpreter", by Tom Shueman  (From Episode 350)
Band of Brothers meets Argo in this dramatic and heartfelt dual memoir of the war in Afghanistan told by two men from opposite worlds. Always Faithful entwines the stories of Marine Major Tom Schueman, and his friend and Afghan interpreter, Zainullah "Zak" Zaki, as they describe their parallel lives, converging paths, and unbreakable bond in the face of overwhelming danger, culminating in Zak and his family's harrowing escape from Kabul.
"Facing Death in Cambodia"                      "Thai Stick: Surfers, Scammers, and the Untold Story of the Marijuana Trade"
By Peter Maguire (From Episode 348)
"Objective Secure: The Battle-Tested Guide to Goal Achievement", by Nick Lavery  (From Episode 347)
Nick Lavery is an active-duty Green Beret within the United States Army Special Forces. Although injuries sustained in combat resulted in the above-the-knee amputation of his leg— Nick not only remained in the Army, he returned to his Special Forces Detachment and continues conducting combat operations to this day.
"To Fly and Fight", by Bud Anderson (From Episode 346)
This is the updated addition of Triple Ace CE Bud Anderson's amazing book To Fly and Fight, Memoirs of a Triple Ace. The updated edition features two new forewords by NASCAR great Jack Roush and German Ace Gunther Rall. The updated edition has 40 new photos, some in color and a new addendum and some new content.
"Extraordinary Valor", By Bill Reeder (From Episode 342)
A Congressional Medal of Honor Account
Extraordinary Valor is the story of Special Forces Major John Duffy's Medal of Honor gallantry at Firebase Charlie, and the heroism of South Vietnamese paratrooper, Major Lê Văn Mễ, who fought by his side. It is the true story of their battle to defend Charlie Hill, a key to holding Vietnam's Central Highlands during North Vietnam's 1972 Easter Offensive.
"Scars and Stripes: An Unapologetically American Story of Fighting The Taliban, UFC Warriors, and Myself", by Tim Kennedy (From Episode 340)
From decorated Green Beret sniper, UFC headliner, and all around badass Tim Kennedy, a rollicking, inspirational memoir offering lessons in how to embrace failure and weather storms, in order to unlock the strongest version of yourself.
Tim Kennedy has a problem; he only feels alive right before he's about to die. Kennedy, a Green Beret, decorated Army sniper, and UFC headliner, has tackled a bull with his bare hands, jumped out of airplanes, dove to the depths of the ocean, and traveled the world hunting poachers, human traffickers, and the Taliban.
n 2006, Sgt. Braxton McCoy (Ret.) was severely wounded by a suicide bomber in Ramadi, Iraq, and later told he may never walk again. After nearly a decade of physical therapy and rehabilitation Braxton has not only regained the majority of his strength, but he has now climbed mountains and competed in endurance races.
"Endure: How to Work Hard, Outlast, and Keep Hammering", by Cameron Hanes
(From Episode 334)
Push beyond your physical limits to improve yourself by following bowhunter and ultramarathoner Cameron Hanes's lifelong philosophies and disciplines.
"In the Company of Heroes: The Personal Story Behind Black Hawk Down", by Mike Durant (From Episode 312)
Piloting a U.S. Army Special Operations Blackhawk over Somalia, Michael Durant was shot down with a rocket-propelled grenade on October 3, 1993. With devastating injuries, he was taken prisoner by a Somali warlord. With revealing insight and emotion, he tells the story of what he saw, how he survived, and the courage and heroism that only soldiers under fire could ever know.
"Reaching For The Stars", by Jose Hernandez (From Episode 310)
Born into a family of migrant workers, toiling in the fields by the age of six, Jose M. Hernàndez dreamed of traveling through the night skies on a rocket ship. Reaching for the Stars is the inspiring story of how he realized that dream, becoming the first Mexican-American astronaut.
"On The Psychology of Military Incompetence", by Dr. Norman F. Dixon (From Episode 303, 304, 305, 306, 307, 308)
The Crimea, the Boer War, the Somme, Tobruk, Pearl Harbor, the Bay of Pigs: these are just some of the milestones in a century of military incompetence, of costly mishaps and tragic blunders. Are these simple accidents — as the "bloody fool" theory has it — or are they inevitable?
"Iron-Sharpened Leadership", by John L. Gronski (From Episode 302)
Iron-Sharpened Leadership is a leadership book the reader will find valuable and inspiring. This leadership book is based on operational experience and is peppered with inspirational stories along with actions one can take to become a more effective leader. Gronski takes a values-based approach to leadership effectiveness and the book is oriented along the lines of his leadership philosophy which includes character, competence, and resilience.
Final Spin: A Novel (From Episode 301)
#1 New York Times bestselling author Jocko Willink's fast-paced thriller Final Spin:
A story of love, brotherhood, suffering, happiness, and sacrifice.
A story about life.
"By The Water Beneath The Walls", By Ben Milligan (From Episode 298)
A gripping history chronicling the fits and starts of American special operations and the ultimate rise of the Navy SEALs from unarmed frogmen to elite, go-anywhere commandos—as told by one of their own.
"Breathe", by Rickson Gracie (From Episode 293)
From legendary Brazilian Jiu-Jitsu and MMA master Rickson Gracie comes a riveting, insightful memoir that weaves together the story of Gracie's stunning career with the larger history of the Gracie family dynasty and the founding of the Ultimate Fighting Championship, showing how the connection between mind and body can be harnessed for success both inside and outside the ring.
"Make Your Bed", "The Hero Code", "Sea Stories", by Admiral William McRaven (From episode 290)
"Strategy", by B.H. Liddell Hart (From Episode 285, 286, 287)
This is the classic book on war as we know it. During his long life, Basil H. Liddell Hart was considered one of the world's foremost military thinkers. In his writing, he stressed movement, flexibility, and surprise. He saw that in most military campaigns, it was vital to take an indirect approach. Rather than attacking the enemy head-on, one must dislocate their psychological and physical balance.
Armenian Golgotha, by Grigoris Balakian (From Episode 280)
On April 24, 1915, Grigoris Balakian was arrested along with some 250 other leaders of Constantinople's Armenian community. It was the beginning of the Ottoman Empire's systematic attempt to eliminate the Armenian people from Turkey—a campaign that continued through World War I and the fall of the empire. Over the next four years, Balakian would bear witness to a seemingly endless caravan of blood, surviving to recount his miraculous escape and expose the atrocities that led to over a million deaths.
"Camp Pozzi: GROM in Iraq", by Naval (From Ep. 276)
The capturing of the trans-shipment terminal near Umm Qasr, Iraq's only deep water port, thwarting an attempt to blow up one of the Iraq's major river dams, dozens of seized fighters and fellow comrades of Saddam Hussein's Ba'ath Party…
Col Matt Jackson, "Undaunted Valor, Vol. 1, 2, 3" (From Episode 275)
…American troops are in contact…
The UH-1H helicopter swoops in to bail them out…
…Tracer fire everywhere, the windshield shatters, the door gunners returning fire…
Will Colonel Cory's helicopter be able to rescue the pinned down soldiers?
Undaunted Valor is the first hand account of helicopter pilot, Colonel Dan Cory as he flies combat missions in the jungles of Vietnams. From dodging enemy ground fire and RPGs, to constant mortar and rocket attacks on his base, Colonel Cory stared down the enemy to bring his fellow soldiers' home.
"Only Cry for the Living", by Hollie McKay (From Episode 271)
THE CHILLING, MUST-READ DEBUT BY AWARD-WINNING WAR CRIMES INVESTIGATOR HOLLIE S. MCKAY FROM JOCKO PUBLISHING AND DI ANGELO PUBLICATIONS!
Only once in a lifetime does a war so brutal erupt. A war that becomes an official genocide, causes millions to run from their homes, compels the slaughtering of thousands in the most horrific of ways, and inspires terrorist attacks to transpire across the world.
"Relentless", by Dean Stott – (From Episode 270)
Everybody has heard the SAS motto that who dares wins, but special forces warrior Dean Stott also lives his life by another powerful mantra – that of the relentless pursuit of excellence. In 16 years of service, Dean rose to the top of Britain's fighting force, taking part of some of the most daring and dangerous operations in the war on terror.
Discipline Equals Freedom Field Manual, MK1-MOD1 , by Jocko Willink (From Episode 260)
In this expanded edition of the 2017 mega-bestseller, updated with brand new sections like DO WHAT MAKES YOU HAPPY, SUGAR COATED LIES and DON'T NEGOTIATE WITH WEAKNESS, readers will discover new ways to become stronger, smarter, and healthier.
(From Episode 257) "Tip of the Spear", by Ryan Hendrickson
Sergeant First Class (SFC) Ryan Hendrickson is a brave, determined, and courageous soldier — a Green Beret clearing the way for his twelve-man team while conducting combat operations against the Taliban. As the "tip of the spear," his role is to ensure the route taken by U.S. and Afghan troops are free of IEDs — improvised explosive devices. Many soldiers do not survive their last step; those who do often lose at least one limb.
"About Face", by Col. David Hackworth, Foreword by Jocko Willink 
Called "everything a war memoir could possibly be" by The New York Times, this all-time classic of the military memoir genre now includes a new foreword from bestselling author and retired Navy SEAL Jocko Willink.
"SOG Chronicles" by John Stryker Meyer
(From Episode 248)  – From 1964 to 1972, far beyond the battlefields of Vietnam and the glare of media distortions, American Green Berets and their indigenous troops fought a deadly secret war in Laos, Cambodia and North Vietnam under the aegis of the top secret Military Assistance Command Vietnam — Studies and Observations Group, or simply SOG.
Whiskey Tango Foxtrot, by Lynne Black (From Episode 247)
"Whisky Tango Foxtrot" is a memoir about the early life of a unique man who was part of an exceptional period in American history, experiencing events and life and death situations a scant few will ever know about. It is the story of Lynne M. Black, code name "Blackjack," and his triumph over adversity as an elite member of the "Studies and Observations Group" during the Vietnam War.
"The Talent War", by Mike Sarraille and George Randle, with Josh Cotton, PhD
(From Episode 244)
Leaders often overlook the importance of building the right team to win. This book teaches you how to avoid that trap.
The incredible true story of former Navy SEAL Mike Day, who survived being shot twenty-seven times while deployed in Iraq.
On the night of April 6, 2007, in Iraq's Anbar Province, Senior Chief Mike Day, his team of Navy SEALs, and a group of Iraqi scouts were on the hunt for a high-level al Qaeda cell. Day was the first to enter a 12×12 room where four terrorist leaders were waiting in ambush. When the gunfight was over, he took out all four terrorists in the room, but not before being shot twenty-seven times and hit with grenade shrapnel. Miraculously, Day cleared the rest of the house and rescued six women and children before walking out on his own to an awaiting helicopter, which flew him to safety.
"The Ride of Our Lives", by John Gronski  (From Episode 235)
"The Ride of Our Lives, Lessons on Life, Leadership, and Love" is an inspirational story about a man and his family on a transformational journey as they bicycled across the United States. It is a powerful story about the resiliency required to overcome challenges.
The Boer War and Military Reforms, by Jay Stone and Erwin Schmidl
This volume contends that the Boer War had a far greater impact upon British military reform than previously appreciated. The study concludes that had there not been the Boer War then quite possibly the First World War might have turned out differently. To support this judgment the Boer War is itself examined in terms of its impact on numerous and diverse fields of military concern. Co-published by arrangement with Atlantic Research and Publications, Inc.
"Top Gun", by Dan Pederson. (from Episode 230)
On the 50th anniversary of the creation of the "Topgun" Navy Fighter School, its founder shares the remarkable inside story of how he and eight other risk-takers revolutionized the art of aerial combat.When American fighter jets were being downed at an unprecedented rate during the Vietnam War, the U.S. Navy turned to a young lieutenant commander, Dan Pedersen, to figure out a way to reverse their dark fortune. On a shoestring budget and with little support, Pedersen picked eight of the finest pilots to help train a new generation to bend jets like the F-4 Phantom to their will and learn how to dogfight all over again.
(From Episode 222)
In 2012, on his third tour of duty in Afghanistan, an improvised explosive device left Dan Crenshaw's right eye destroyed and his left blinded. Only through the careful hand of his surgeons, and what doctors called a miracle, did Crenshaw's left eye recover partial vision. roadside And yet, he persevered, completing two more deployments. Why? There are certain stories we tell ourselves about the hardships we face – we can become paralyzed by adversity or we can adapt and overcome. We can be fragile or we can find our fortitude. Crenshaw delivers a set of lessons to help you do just that.
No Tougher Duty, No Greater Honor, by Chris Bussler
(From Episode 20)
A truly unforgettable autobiographical account of war from a brand new perspective, one of a Marine Reservist assigned to recover our fallen service members off of the battlefield and send them home with honor. This superbly written and gripping story begins a few months before the Iraq war in 2002 where Christian Bussler worked as an everyday postal letter carrier in Springfield, Ohio.
Two Who Survived, By Rose and Max Schindler
(From Episode 219)
Two Who Survived chronicles the true story of two children from different worlds: a city boy and a country girl. When the persecution of Jews begins, both are plucked from their reality and thrust into concentration camps. They are stripped of everything they know and forced to navigate a truly incomprehensible, volatile, dangerous and unpredictable world. Even when separated from support systems and family members, their drive to survive helps them navigate. Despite their exposure to the horrors of the holocaust, they endure and carry on with a determination that shapes their character forever. Follow the lives of Max and Rose as they learn to adapt to a reality beyond belief and emerge stronger than ever. When they are finally liberated from their concentration camps, they navigate a new world individually before eventually coming together to form what each so tragically lost: a family.
GRATEFUL AMERICAN, by Gary Sinise
(From Episode 217)
New York Times Bestseller: The moving, entertaining, never-before-told story of how one man found his calling: to see that those who defend this country and its freedoms are never forgotten.
THE MEMORY ENDURES, by Reg Curtis
From Episode 216
Leadership Strategy and Tactics, By Jocko Willink (From Episode 210 and 211)
The ultimate guide on leadership from the #1 New York Times bestselling co-author of Extreme Ownership.

In the military, a field manual provides instructions in simple, clear, step-by-step language to help soldiers complete their mission. In the civilian sector, books offer information on everything from fixing a leaky faucet to developing an effective workout program to cooking a good steak.
But what if you are promoted into a new position leading your former peers? What if you don't get selected for the leadership position you wanted? How do you overcome imposter syndrome, when you aren't sure you should be leading? As a leader, how do you judiciously dole out punishment? What about reward? How do you build trust with your both your superiors and your subordinates? How do you deliver truthful criticism up and down the chain of command in a tactful and positive way?
"Appel", by Joel Struthers. (From Episode 209)
The first-hand account of the author's six years as a professional soldier and member of the French Foreign Legion's elite Group Commando Parachutistes.
In Appel, Joel Struthers recounts the dangers and demands of military life, from the rigours of recruitment and operational training in the rugged mountains of France, to face-to-face combat in the grasslands of some of Africa's most troubled nations.
Told through the eyes of a soldier, and interspersed with humorous anecdotes, Appel is a fascinating story that debunks myths about the French Foreign Legion and shows it more accurately as a professional arm of the French military. Struthers provides insight into the rigorous discipline that the Legion instills in its young recruits, who trade their identities as individuals for a life of adventure and a role in a unified force whose motto is "Honour and Loyalty."
You're Worth it", by Kyle Carpenter (From episode 207)
On November 21, 2010, U.S. Marine Lance Corporal Kyle Carpenter was posted atop a building in violent Helmand Province, Afghanistan, when an enemy grenade skittered toward Kyle and fellow Marine Nick Eufrazio. Without hesitation, Kyle chose a path of selfless heroism that few can imagine. He jumped on the grenade, saving Nick but sacrificing himself.
THE STRESS EFFECT, by Dick Thompson.
From Episode 204, 205, 206.
Reveals the powerful and undermining effects of stress on good decision making-and what leaders can do about it
The ability to make sound and timely decisions is the mark of a good leader. But when leaders with otherwise strong track records suddenly begin making poor decisions-as seen in the recent corporate scandals that rocked the business world-the impact can be widespread. In The Stress Effect, leadership expert Henry L. Thompson argues that stress is often the real culprit behind this leadership failure: when leaders' stress levels become sufficiently elevated-whether in the boardroom or on the front line of a manufacturing process-their ability to effectively use their emotional intelligence and cognitive ability in tandem to make wise decisions is significantly impaired. Until now, experts have argued that increasing your emotional intelligence will help you cope with and manage stress. This book suggests that stress actually blocks access to your emotional intelligence as well as your cognitive ability, two critical components in the decision-making process. This book
Faithful Warriors, by Dean Ladd
(From Episode 202)
Faithful Warriors is a memoir of World War II in the Pacific by Lt. Col. Dean Ladd, USMC (Ret.), a combat veteran of the 8th Marine Regiment, 2nd Marine Division. Written with award-winning author Steven Weingartner, Col. Ladd s book chronicles his experiences as a junior officer in some of the fiercest fighting of the war, during the amphibious invasions of Guadalcanal, Tarawa, Saipan, and Tinian.
"The Knock at the Door", by Ryan Manion, Heather Kelly, and Amy Looney Heffernan
(From Ep. 201)
For us, it was a literal knock, with two men standing in crisply pressed uniforms. They had news. News that gutted us to the core — the death of our loved ones, a brother and two husbands — in combat zones. The thing about those moments is that it's almost inconceivable that they can happen to you. That is, until they do.
This book is for anyone who has ever received a knock at the door. And if you live long enough and have the courage to love others, you will. Maybe it's a cancer diagnosis. Maybe it's the death of your best friend. The betrayal of a spouse. The loss of a child. The implosion of a professional career. Or any tragedy that takes the person we love the most away from us too soon. Life is not without its challenges. The key is how you respond.
This is our story. The story of three women, bonded by grief and purpose. Grief because we lost our best friends in war. Purpose because we resolved — together — to do something about it. To turn loss into inspiration for others and to channel the love that we had for the men in our lives into love for others through service. It was the only way we could escape the trap of despair and inaction, and we believe it offers a roadmap for anyone else who has ever had to answer a knock at the door.
Outlaw Platoon, by Sean Parnell
(From Ep. 192)
THE NEW YORK TIMES BESTSELLER

A riveting story of American fighting men, Outlaw Platoon is Lieutenant Sean Parnell's stunning personal account of the legendary U.S. Army's 10th Mountain Division's heroic stand in the mountains of Afghanistan. Acclaimed for its vivid, poignant, and honest recreation of sixteen brutal months of nearly continuous battle in the deadly Hindu Kush, Outlaw Platoon is a Band of Brothers or We Were Soldiers Once and Young for the early 21st century–an action-packed, highly emotional true story of enormous sacrifice and bravery.
(from Ep. 183)
When a string of horrific terrorist attacks plagues the Western world during the holiday season, the broader markets fall into a tailspin. The attacks are being coordinated by a shadowy former Iraqi commando who has disappeared into Europe's underground. The United States government has an asset who can turn the Iraqi against his masters: James Reece, the most-wanted domestic terrorist alive.
After avenging the deaths of his family and team members, Reece emerges deep in the wilds of Mozambique, protected by the family of his estranged best friend and former SEAL Team member. When a series of events uncovers his whereabouts, the CIA recruits him, using a Presidential pardon for Reece and immunity for the friends who helped him in his mission of vengeance.
The Terminal List, By Jack Carr
(from Ep. 183)
A Navy SEAL has nothing left to live for and everything to kill for after he discovers that the American government is behind the deaths of his team in this ripped-from-the-headlines political thriller that is "so powerful, so pulse-pounding, so well-written—rarely do you read a debut novel this damn good" (Brad Thor, #1 New York Times bestselling author).
On The Ground, by John Stryker Meyer
(From Ep. 181)
During the Vietnam War, a "secret war" was fought across the fence in Laos, Cambodia and North Vietnam, unknown to the media or the public, under the aegis of the Military Assistance Command Vietnam's top secret Studies and Observation Group. SOG's chain of command for missions and after-action reports extended to the White House and the Joint Chiefs of Staff.
Across The Fence, By John Stryker Meyer
(From Ep. 180)
For eight years, far beyond the battlefields of Vietnam and the glare of media distortions, American Green Berets fought a deadly secret war in Laos and Cambodia under the aegis of the top secret Military Assistance Command Vietnam – Studies and Observations Group, or SOG. Go deep into the jungle with five SOG warriors surrounded by 10,000 enemy troops as they stack up the dead to build a human buttress for protection. Witness a Green Beret, shot in the back four times and left for dead, who survives to fight savagely against incredible odds to complete his missions.
SOG Chronicles, By John Stryker Meyer
(From Ep. 180)
From 1964 to 1972, far beyond the battlefields of Vietnam and the glare of media distortions, American Green Berets and their indigenous troops fought a deadly secret war in Laos, Cambodia and North Vietnam under the aegis of the top secret Military Assistance Command Vietnam — Studies and Observations Group, or simply SOG.
From Ep. 172
FM 22-10 is published for the information and guidar
of all concerned.
[AG 353 (17 Jan 51)]
BY ORDER OF THE SECRETARY OF THE ARMY:  OFFICIAL: J. LAWTON COLLINS
V'DWARD F. WITSELL Chief of Staff
Major General, USA United States Army
The Adjutant General
Unflinching   |   Everyday Heroes  |  by Jody Mitic
From Episodes 24, 25, 111, 169
Psychology For The Fighting Man: What You Should Know About Yourself and Others
(From ep. 164, 165, 166)
This scarce antiquarian book is a facsimile reprint of the original. Due to its age, it may contain imperfections such as marks, notations, marginalia and flawed pages. Because we believe this work is culturally important, we have made it available as part of our commitment for protecting, preserving, and promoting the world's literature in affordable, high quality, modern editions that are true to the original work.
"The Trident: The Forging and Reforging of a Navy SEAL Leader", by Jason Redman
Decorated US Navy SEAL lieutenant Jason Redman served his country courageously and with distinction in Colombia, Peru, Afghanistan, and Iraq, where he commanded mobility and assault forces. He conducted over forty capture/kill missions with his men in Iraq, locating more than 120 al-Qaida insurgents. But his journey was not without supreme challenges—both emotional and physical. Redman is brutally honest about his struggles to learn how to be an effective leader, yet that effort pales beside the story of his critical wounding in 2007 while leading a mission against a key al-Qaida commander.
Panzram: A Journal of Murder, By Thomas Gaddis
A detailed memoir and self-analysis by a mass murderer. Panzram was born in 1891 on a Minnesota farm and died in 1930 on the gallows at the U.S.Penitentiary, Fort Leavenworth, Kansas. Imprisoned for most of his life from the age of twelve and brutally punished, Panzram's keen insight into the arbitrary cruelty of his fellow human being is graphically illustrated with a litany of prison abuses, as well as the details of his own sordid, tragic life. Panzram arrives as a gripping warning from America's past to new prison-industrial complex era. The authors add an historical and sociological framework for Panzram's words.
The Gulag Archipelago (Abridged), by Aleksandr Solzhenitsyn
Drawing on his own experiences before, during and after his eleven years of incarceration and exile, on evidence provided by more than 200 fellow prisoners, and on Soviet archives, Solzhenitsyn reveals with torrential narrative and dramatic power the entire apparatus of Soviet repression, the state within the state that once ruled all-powerfully with its creation by Lenin in 1918.
I Heard My Country Calling: A Memoir, By James Webb
(From Ep. 149)
In this brilliantly received memoir, former senator James Webb has outdone himself. It is rare in America that one individual is recognized for the highest levels of combat valor, as a respected member of the literary and journalistic world, and as a blunt-spoken leader in national politics. In this extraordinary memoir, Webb writes vividly about the early years that shaped such a remarkable personal journey.
(From Ep. 149)
They each had their reasons for joining the Marines. They each had their illusions. Goodrich came from Harvard. Snake got the tattoo—"Death Before Dishonor"—before he got the uniform. Hodges was haunted by the ghosts of family heroes. They were three young men from different worlds, plunged into a white-hot, murderous realm of jungle warfare as it was fought by one Marine platoon in the An Hoa Basin, 1969. They had no way of knowing what awaited them. Nothing could have prepared them for the madness to come. And in the heat and horror of battle they took on new identities, took on one another, and were each reborn in fields of fire.
The Nightingale's Song, by Robert Timberg
(From Ep. 149)
Robert Timberg weaves together the lives of Annapolis graduates John McCain, James Webb, Oliver North, Robert McFarlane, and John Poindexter to reveal how the Vietnam War continues to haunt America. Casting all five men as metaphors for a legion of well-meaning if ill-starred warriors, Timberg probes the fault line between those who fought the war and those who used money, wit, and connections to avoid battle. A riveting tale that illuminates the flip side of the fabled Vietnam generation — those who went.
Valleys of Death: Memoirs of The Korean War
(From Ep. 148)
From the devastating counterattack at Unsan to the thirty-four months he spent in captivity-a period of years in which giving up surely meant dying-Col. Bill Richardson's instinct for leadership and stubborn will to survive saw him through one valley of death after the next. Valleys of Death is a stirring story of survival and determination that offers a fascinating, intimate look at the soldiers who fought America's first battle of the Cold War in the unvarnished words of one of their own. Richardson endured many long months of starvation, torture, sleep deprivation, and Chinese attempts at indoctrination, yet maintained defiance under conditions designed to break the mind, body, and spirit of men.
Men Against Fire, by S.L.A. Marshall
From Ep. 142)
S.L.A. "Slam" Marshall was a veteran of World War I and a combat historian during World War II. He startled the military and civilian world in 1947 by announcing that, in an average infantry company, no more than one in four soldiers actually fired their weapons while in contact with the enemy. His contention was based on interviews he conducted immediately after combat in both the European and Pacific theaters of World War II.
"A Soldier's Journal", James Bollich
(From Ep. 139)
The first hand experience in the Bataan Death March.
The Dichotomy of Leadership, by Jocko Willink and Leif Babin
(From Ep. 138)
Every leader must be ready and willing to take charge, to make hard, crucial calls for the good of the team and the mission. Something much more difficult to understand is that, in order to be a good leader, one must also be a good follower. This is a dichotomy; a Dichotomy of Leadership. It is, as authors Jocko Willink and Leif Babin wrote in their bestselling first book Extreme Ownership, "Simple, Not Easy."
"He Was No Coward", by Janet Booth & James White
(From Ep. 136)
Harry Farr was born in north London in December 1890. His life ended while tied to a post, without a blindfold, shot to death by his fellow soldiers at the height of the First World War. In between, he served two years as a regular soldier before the war, fell in love, got married and became a father to baby Gertie, before spending two years on the Western Front with the West Yorkshire Regiment.
Unit 731: Testimony, by Hal Gold.  Unit 731, by Pete Williams.   (From Episode 132)
"Concerning Military Affairs / De Re Militari", By Flavius Vegetius Renatus
(From Ep. 130)
A classic of the ancient world of warfare
De Re Militari (Concerning Military Affairs), written in the 5th century by Vegetius and translated from the original Latin, is a treatise on warfare in the Roman world and is vital reading for any modern student of the subject as it clearly outlines the methods and practices of the type of warfare waged by the Roman Empire at the height of its power.
"Instructions for his Generals", by Frederick The Great
(From Ep. 129)
The king of Prussia from 1740 to 1786, Frederick the Great ranks among eighteenth-century Europe's most enlightened rulers. In addition to abolishing serfdom in his domains and promoting religious tolerance, he was an ardent patron of the arts and an accomplished musician. "Diplomacy without arms," he observed, "is like music without instruments." Frederick's expertise at military matters is reflected in his successful defense of his territory during the Seven Years' War, in which he fought all the great powers of Europe. His brilliant theories on strategy, tactics, and discipline are all explained in this vital text.
"Hell, Yes. I'd Do It Again", by T. Fred Harvey
(From Episode: 127)
Review: Hell Yes, I'd Do It Again by T. Fred Harvey is an emotional and fascinating wild ride with a man who has experienced more adventures than most of us can even imagine. This Revised Edition having the sky blue cover is expanded with new chapters on his life not included in the earlier book. It also contains many more photos and updates on stories from his earlier memoir.
"Fortunate Son", by Lewis Puller Jr.
(From Episode 122)
Winner of the Pulitzer Prize, Lewis B. Puller, Jr.'s memoir is a moving story of a man born into a proud military legacy who struggles to rebuild his world after the Vietnam War has shattered his body and his ideals. Raised in the shadow of his father, Marine General Lewis B. "Chesty" Puller, a hero of five wars, young Lewis went to Southeast Asia at the height of the Vietnam War and served with distinction as an officer in his father's beloved Corps. But when he tripped a booby-trapped howitzer round, triggering an explosion that would cost him his legs, his career as a soldier ended, and the battle to reclaim his life began.
"Marine! The Life of Chesty Puller"
(From Episode 121)
From commanding the Horse Marines in Peking to leading the Inchon landing, Puller became a legend in his own time. Now, Davis offers a no-holds-barred biography of this courageous hero–the only marine in history ever to win five Navy Crosses.
"Mind Over Muscle", by Jigoro Kano
(From Episode 119)
n 1882 Jigoro Kano (1860-1938) founded Kodokan Judo at Eishoji Temple in Tokyo. It was the culmination of a lifelong devotion to the jujutsu of the past, which he reorganized while taking great care to retain its classical traditions. Historically, martial arts were practiced only by the elite in Japan. Kano, a renowned educator as well as a sportsman, is credited with popularizing the martial arts, and in particular, judo, among people in all levels of society.
"The 11th Day", by Anthony Summers and Robbyn Swan
(from Episode 119)
What exactly happened on 9/11? Could it have been prevented? And what remains unresolved?
(From Ep. 116)
"I can't."  This is an expression that is vilified in our minds beginning at a young age.  Every time a young child announces this decision they are corrected.  The first adult that hears it asks them whether or not they have even tried. Generally, this confrontation will result in the child giving their task another attempt, until their attention span moves on to something else.   www.robjonesjourney.com
"Into The Fire", by Dakota Meyer
(From Ep. 115)
In the fall of 2009, Taliban insurgents ambushed a patrol of Afghan soldiers and Marine advisors in a mountain village called Ganjigal. Firing from entrenched positions, the enemy was positioned to wipe out one hundred men who were pinned down and were repeatedly refused artillery support. Ordered to remain behind with the vehicles, twenty-one year-old Marine corporal Dakota Meyer disobeyed orders and attacked to rescue his comrades.
Extreme Ownership", by Jocko Willink & Leif Babin 
(From Ep. 114)
Combat, the most intense and dynamic environment imaginable, teaches the toughest leadership lessons, with absolutely everything at stake. Jocko Willink and Leif Babin learned this reality first-hand on the most violent and dangerous battlefield in Iraq. As leaders of SEAL Team Three's Task Unit Bruiser, their mission was one many thought impossible: help U.S. forces secure Ramadi, a violent, insurgent-held city deemed "all but lost." In gripping, firsthand accounts of heroism, tragic loss, and hard-won victories, they learned that leadership―at every level―is the most important factor in whether a team succeeds or fails.
Team Dog. Trident K9 Warriors. Navy SEAL Dogs.
By Mike Ritland
(From Episode 113)

"12 Rules For Life", by Jordan Peterson
(From Ep. 112)
Humorous, surprising and informative, Dr. Peterson tells us why skateboarding boys and girls must be left alone, what terrible fate awaits those who criticize too easily, and why you should always pet a cat when you meet one on the street.
"Everyday Heroes", by Jody Mitic
(From Ep. 111)
In this moving collection of first-person accounts, the men and women of the Canadian Armed Forces take us inside life in the military and share their personal stories of courage, perseverance, and sacrifice.
What does it mean to serve? Bestselling author Jody Mitic brings together veterans and active military personnel from across Canada to tell us, in their own words, what it means to answer the call of duty.
"Reveries on The Art of War", Maurice De Saxe
(From Ep. 110)
At the age of twelve, Dresden-born Maurice de Saxe (1696–1750) entered the Saxon army, beginning a long and successful military career that culminated in his promotion to Marshal of France, where he retained full command of the main army in Flanders directly under Louis XV. Again and again, de Saxe achieved enormous victories over his enemies, becoming one of the greatest military leaders of the eighteenth century. Combining his memoirs and general observations with brilliant military thinking,  Reveries on the Art of War was written in a mere thirteen days.
(From Ep. 109)
Much more than a routine account of a battle, Stalingrad presents a stunning review of the motivations, misplaced principles, and misguided claims that led to what is considered Hitler's deadliest misstep.
(From Ep. 107)
"Hal Moore personified outstanding leadership. Whatever your profession might be, his leadership approach of Competence, Judgment, and Character is more relevant today than ever.
Mike Guardia brings alive General Moore's approach in a compelling, concise way "
– Don R. Knauss, Former Chairman & CEO, The Clorox Company
"We Were Soldiers Once… And Young", by Gen. Hal Moore and Joe Galloway
(From Ep. 105 and 106)
Each year, the Commandant of the U.S. Marine Corps selects one book that he believes is both relevant and timeless for reading by all Marines. The Commandant's choice for 1993 was We Were Soldiers Once . . . and Young. 
In November 1965, some 450 men of the 1st Battalion, 7th Cavalry, under the command of Lt. Col. Hal Moore, were dropped by helicopter into a small clearing in the Ia Drang Valley. They were immediately surrounded by 2,000 North Vietnamese soldiers. Three days later, only two and a half miles away, a sister battalion was chopped to pieces. Together, these actions at the landing zones X-Ray and Albany constituted one of the most savage and significant battles of the Vietnam War.
"Recollectons of Rifleman Harris"
(From Ep. 103)
A shepherd's son is enlisted as a soldier of the Army of Reserve.
His name is Benjamin Randell Harris, private of the 95th Regiment of Foot.
The Recollections of Benjamin Harris are the classic memoirs of a foot soldier during the Napoleonic Wars, originally published in 1848.
"The Hundred Rules of War", by Tsukahara Bokuden
(From Ep. 101)
A book by a veteran Samurai to young warriors who had not tasted battle. The man known as a sword saint, Tsukahara Bokuden 1489-1571, composed this work seventy-five years before Miyamoto Musashi's Book of Five Rings. Bokuden studied Tenshin Shoden Katori Shinto School and later founded the Kashima Shinto School of sword fighting. This book, which consists of a hundred songs, was transmitted to Samurai who had not yet fought in battle. In the early 1600s a forward was written by the Zen Priest Takuan Soho
Musashi: An Epic Novel of the Samurai Era
(Ep. 100)
Miyamoto Musashi was the child of an era when Japan was emerging from decades of civil strife. Lured to the great Battle of Sekigahara in 1600 by the hope of becoming a samurai-without really knowing what it meant-he regains consciousness after the battle to find himself lying defeated, dazed and wounded among thousands of the dead and dying. On his way home, he commits a rash act, becomes a fugitive and brings life in his own village to a standstill-until he is captured by a weaponless Zen monk.
"Tribe of Mentors" , by Tim Ferriss
(From Ep. 100)
When facing life's questions, who do you turn to for advice? We all need mentors, particularly when the odds seem stacked against us. To find his own, four-time #1 best-selling author Tim Ferriss tracked down more than 100 eclectic experts to help him, and you, navigate life. Through short, action-packed profiles, he shares their secrets for success, happiness, meaning, and more. No matter the challenge or opportunity, something in these pages can help.
"Tools Of Titans" , by Tim Ferriss
(From Ep. 100)
The latest groundbreaking tome from Tim Ferriss, the #1 New York Times best-selling author of The 4-Hour Workweek.
"Mind Games", by Michael Powell
Mentioned in many episodes.
Jordan Peterson (From Ep. 98)
"Maps of Meaning."  |  "12 Rules For Life"
"The Road", by Cormac McCarthy
(Mentioned in Ep. 97)
The searing, postapocalyptic novel destined to become Cormac McCarthy's masterpiece.
A father and his son walk alone through burned America. Nothing moves in the ravaged landscape save the ash on the wind. It is cold enough to crack stones, and when the snow falls it is gray. The sky is dark. Their destination is the coast, although they don't know what, if anything, awaits them there. They have nothing; just a pistol to defend themselves against the lawless bands that stalk the road, the clothes they are wearing, a cart of scavenged food—and each other.
"Men At Arnhem", by Geoffrey Powell
(From Ep. 94)
In the fall of 1944, Allied commanders planned to land airborne divisions in an attempt to capture a series of bridges behind German lines, including the "bridge too far" at Arnhem. Geoffrey Powell, himself a veteran of the Arnhem operation, drew on conversations with many other survivors of the battle to write one of the most dramatic of all accounts of the battle.
"As Tough As They Come", by Travis Mills
(From Ep. 90)
Thousands of soldiers die every year to defend their country. United States Army Staff Sergeant Travis Mills was sure that he would become another statistic when, during his third tour of duty in Afghanistan, he was caught in an IED blast four days before his twenty-fifth birthday. Against the odds, he lived, but at a severe cost—Travis became one of only five soldiers from the wars in Afghanistan and Iraq to survive a quadruple amputation.
"By Honor Bound", by Tom Norris, Mike Thornton, Dick Couch
(From Ep. 89)
In April of 1972, SEAL Lieutenant Tom Norris risked his life in an unprecedented ground rescue of two American airmen who were shot down behind enemy lines in North Vietnam, a feat for which he would be awarded the Medal of Honor–an award that represents the pinnacle of heroism and courage.
Just six months later, Norris was sent on a dangerous special reconnaissance mission that would take his team deep into enemy territory. On that mission, they engaged a vastly superior force. In the running gun battle that ensued, Lieutenant Norris was severely wounded; a bullet entered his left eye and exited the left side of his head. SEAL Petty Officer Mike Thornton, under heavy fire, fought his way back onto a North Vietnamese beach to rescue his officer. This was the first time Tom and Mike had been on a combat mission together. Mike's act of courage and loyalty marks the only time in modern history that the Medal of Honor has been awarded in a combat action where one recipient received the Medal for saving the life of another.
"Excursion To Hell", by Vincent Bramley
(From Ep. 88)
An account of the Falklands War told by an ordinary soldier. In retelling what happened to him and his fellow paratroopers during the bloody battle for Mount Longdon, Bramley exposes the effects that the prospect of dying and the reality of killing have on a common soldier – from those who desert to those who, like himself, obey orders, face death and do their share of killing and those who become brutalized and kill and maim the enemy unnecessarily.
"Clay Pigeons of St. Lo", by Glover Johns
(From Ep. 87)
This classic of military history tells the story of the fall of St. Lô, the first major objective of the invading American armies in Normandy in June of 1944. Although St. Lô was intended to be taken within days of the landing, stubborn German resistance postponed the town's fall until July 18.
+
"Ordinary Men: Reserve Police Battalion 101 and The Final Solution in Poland", by Christopher R. Browning
(From Ep. 85)
The shocking account of how a unit of average middle-aged Germans became the cold-blooded murderers of tens of thousands of Jews.
(From Ep. 84)
Serve to Lead: The British Army's Anthology on Leadership.
(From Ep. 81)
The original British Army anthology on leadership, used to train generations of officers, brings together the collected wisdom of great military leaders, tacticians and historians with the authentic voices of unknown soldiers. Moving, inspiring, amusing and thought-provoking, it teaches lessons about motivation, leadership and morale that are every bit as valuable to today's leaders and managers. Complete with a new introduction by Robin Matthews, who commanded the Light Dragoons in Iraq, on the background to Serve to Lead and its relevance to his own career and experiences from Sierra Leone to Afghanistan.
Musashi, "The Book of Five Rings"
(From Ep. 80)
Miyamoto Musashi's Go Rin no Sho or the book of five rings, is considered a classic treatise on military strategy, much like Sun Tzu's The Art of War and Chanakya's Arthashastra. The five "books" refer to the idea that there are different elements of battle, just as there are different physical elements in life, as described by Buddhism, Shinto, and other Eastern religions. Through the book Musashi defends his thesis: a man who conquers himself is ready to take it on on the world, should need arise.
"A Man's Search For Meaning", By Viktor Frankl
(From Ep. 78)
Psychiatrist Viktor Frankl's memoir has riveted generations of readers with its descriptions of life in Nazi death camps and its lessons for spiritual survival. Between 1942 and 1945 Frankl labored in four different camps, including Auschwitz, while his parents, brother, and pregnant wife perished. Based on his own experience and the experiences of others he treated later in his practice, Frankl argues that we cannot avoid suffering but we can choose how to cope with it, find meaning in it, and move forward with renewed purpose. Frankl's theory-known as logotherapy, from the Greek word logos ("meaning")-holds that our primary drive in life is not pleasure, as Freud maintained, but the discovery and pursuit of what we personally find meaningful.
"I'm No Hero", by Capt. Charlie Plumb
(From Ep. 76)
I'm No Hero is an autobiography of Captain Charlie Plumb's life; it is the story of the Vietnam POW's who faced an isolated world of degradation, loneliness, tedium, hunger and pain; most significantly, it is a story of hope, for it deals directly with how the techniques used by the POW's just to survive are the same techniques you and I apply in daily life.
"Conversations With Major Dick Winters", by Dick Winters.
(From Ep. 75)
On the hellish battlefields of World War II Europe, Major Dick Winters led his Easy Company—the now-legendary Band of Brothers—from the confusion and chaos of the D-Day invasion to the final capture of Hitler's Eagle's Nest.
"Hard-core: Life of My Own", by Harley Flanagan
(From Ep. 74)
Harley Flanagan provides a fascinating memoir: a child prodigy and family friend of Andy Warhol and Allen Ginsberg, at a young age he became close to many stars of the early punk rock scene like Joe Strummer of The Clash and was taught to play bass by members of the famed black punk band Bad Brains. He started playing drums for the New York punk band the Stimulators when he was 11 years old; playing at places like Max's Kansas City with some of the most notable names of the punk scene. He then went on to start the notorious hardcore band Cro-Mags.
"Brothers Forever: The Enduring Bond Between a Marine and a Navy SEAL That Transcended Their Ultimate Sacrifice", By Tom Manion
(From Ep.72)
Brothers Forever tells the intimate and personal story of how two Naval academy roommates—US Marine Travis Manion and US Navy SEAL Brendan Looney—defined a generation's sacrifice after 9/11, and how their loved ones overcame heartbreak to carry on in their memory. It is a remarkable story of friendship, family, and war.
"A Helmet for my Pillow", by Robert Leckie
(from Ep. 71)
Here is one of the most riveting first-person accounts ever to come out of World War II. Robert Leckie enlisted in the United States Marine Corps in January 1942, shortly after the Japanese attack on Pearl Harbor. In Helmet for My Pillow we follow his odyssey, from basic training on Parris Island, South Carolina, all the way to the raging battles in the Pacific, where some of the war's fiercest fighting took place. Recounting his service with the 1st Marine Division and the brutal action on Guadalcanal, New Britain, and Peleliu, Leckie spares no detail of the horrors and sacrifices of war, painting an unvarnished portrait of how real warriors are made, fight, and often die in the defense of their country.
I Said No: A Kid-to-Kid Guide to Keeping Private Parts Private
(from Ep. 70)
Helping kids set healthy boundaries for their private parts can be a daunting and awkward task for parents, counselors and educators. Written from a kid s point of view, I Said No! makes this task a lot easier.
"Company Commander" by Charles Macdonald
(from Ep. 67)
As a newly commissioned Captain of a veteran Army regiment, MacDonald's first combat was war at its most hellish―the Battle of the Bulge. In this plain-spoken but eloquent narrative, we live each minute at MacDonald's side, sharing in all of combat's misery, terror, and drama. How this green commander gains his men's loyalty in the snows of war-torn Europe is one of the great, true, unforgettable war stories of all time.
"Through The Valley: My Captivity in Vietnam" by with Col. William Reeder
(from Ep. 63)
Through the Valley is the captivating memoir of the last U.S. Army soldier taken prisoner during the Vietnam War. A narrative of courage, hope, and survival, Through the Valley is more than just a war story. It also portrays the thrill and horror of combat, the fear and anxiety of captivity, and the stories of friendships forged and friends lost.
(from Ep. 60)
In December 1937, the Japanese army swept into the ancient city of Nanking. Within weeks, more than 300,000 Chinese civilians and soldiers were systematically raped, tortured, and murdered—a death toll exceeding that of the atomic blasts of Hiroshima and Nagasaki combined. Using extensive interviews with survivors and newly discovered documents, Iris Chang has written the definitive history of this horrifying episode.
The Woman Who Could Not Forget
(from Ep. 60)
Iris Chang's best-selling book The Rape of Nanking forever changed the way we view the Second World War in Asia. It all began with a photo of a river choked with the bodies of hundreds of Chinese civilians that shook Iris to her core. Who were these people? Why had this happened and how could their story have been lost to history? She could not shake that image from her head. She could not forget what she had seen.
Battle  Studies
(From Episode 62)
Excerpt from Battle Studies: Ancient and Modern Battle
On the professional side the service is obvious, since before the last war the weakness of the American like the British Army, a weakness inevitable, given our iso lation, lay in the absence of adequate study of the higher branches of military science and thus the ah sence of such a body of highly skilled professional soldiers, as constituted the French or German General Staff. The present volume is a. Clear evidence that American officers themselves have voluntarily under taken to make good this lack.
(from ep. 59)
This is the story of a kid from the wrong side of Scranton who made it to the Naval Academy, played linebacker for the Navy football team for four years, became a Marine officer, graduated first in his infantry officer class, led his men in two intense combat tours in the Anbar Province, received the Silver Star for gallantry, and now has emerged as one of the most interesting figures on the mixed martial arts (MMA) professional circuit.
Strategikon: Handbook of the Byzantine Military Strategy (The Middle Ages Series)
(from Ep. 57)
As a veteran campaigner, the Byzantine emperor Maurice (582-602) compiled a unique and influential handbook intended for the field commander. In this first complete English translation, the Strategikon is an invaluable source not only for early Byzantine history but for the general history of the art of war. Describing in detail weaponry and armor, daily life on the march or in camp, clothing, food, medical care, military law, and titles of the Byzantine army of the seventh century, the Strategikon offers insights into the Byzantine military ethos.
(from Ep. 54)
"The Armed Forces Officer" is much more than a how-to guide for military officers. It is a series of candid, timeless essays on the nature of the people who occupy the ranks of the military services. "The Armed Forces Officer" highlights that our military is not just a collection of machines, processes, and regulations, but a very human endeavor whose proper understanding requires acknowledging that humans are what make our military the complex, potent, and wonderful organization that it is—a truth that can be applied to any organization, military or civilian, composed of people and all their mysterious complexities. This is a republication of the 1950 edition of "The Armed Forces Officer."
"Colder Than Hell", by Joseph R. Owen
(from Ep. 53)
During the early,  uncertain days of the Korean War, World War II veteran and company lieutenant Joe Owen saw firsthand how the hastily assembled mix of some two hundred regulars and raw reservists hardened into a superb Marine rifle company known as Baker-One-Seven.
"The Coldest War: A Memoir of Korea", by James Brady
(from Ep. 51)
America's "forgotten war" lasted just thirty-seven months, yet 54,246 Americans died in that time — nearly as many as died in ten years in Vietnam. On the fiftieth anniversary of this devastating conflict, James Brady tells the story of his life as a young marine lieutenant in Korea.
"Tools of Titans", by Tim Ferriss
(from Ep. 50)
"For the last two years, I've interviewed nearly two hundred world-class performers for my podcast, The Tim Ferriss Show. The guests range from super celebs (Jamie Foxx, Arnold Schwarzenegger, etc.) and athletes (icons of powerlifting, gymnastics, surfing, etc.) to legendary Special Operations commanders and black-market biochemists. For most of my guests, it's the first time they've agreed to a two-to-three-hour interview, and the show has more than 100 million downloads.
"I Fought With Custer: The Story of Sergeant Windolph, Last Survivor of the Battle of the Little Big Horn"
(from Ep. 48)
Sergeant Charles Windolph was the last white survivor of the Battle of the Little Big Horn when he described it nearly seventy years later. A six-year veteran of the Seventh Cavalry, Windolph fought in Benteen's troop on that fatal Sunday and recalls in vivid detail the battle that wiped out Custer's command. Equally vivid is the evidence marshaled by Frazier and Robert Hunt on events leading up to the battle and on the investigation that followed.
"Wooden Leg: A Warrior Who Fought Custer", by Thomas Marquis
(from Ep. 45)
Wooden Leg: A Warrior Who Fought Custer is a book by Thomas Bailey Marquis about the life of a Northern Cheyenne Indian, Wooden Leg, who fought in several historic battles between United States forces and the Plains Indians, including the Battle of the Little Bighorn, where he faced the troops of George Armstrong Custer.
"The Glory of the Trenches", by Coningsby Dawson
(from Ep. 43)
Lieutenant Coningsby Dawson joined the Canadian Army at the front in 1916, and continued in service until the end of World War I. He served in the Somme battlefield at Albert, at Thiepval, at Courcelette, and at the taking of the Regina trench.
(from Ep. 39)
Europe was in the throes of World War II, and when America joined the fighting, Ernie Pyle went along. Long before television beamed daily images of combat into our living rooms, Pyle's on-the-spot reporting gave the American public a firsthand view of what war was like for the boys on the front. Pyle followed the soldiers into the trenches, battlefields, field hospitals, and beleaguered cities of Europe. What he witnessed he described with a clarity, sympathy, and grit that gave the public back home an immediate sense of the foot soldier's experience.
"The Killing Zone", by Frederick Downs 
(from Ep. 33)
The Killing Zone: My Life in the Vietnam War, by Frederick Downs Jr. (Author)
"Four Hours in My Lai", by Michael Bilton and Kevin Sim
(from Ep.31)
Uncovering the secrets behind the 1968 My Lai massacre in Vietnam, this is "a brutal, cautionary tale that serves as a painful reminder of the worst that can happen in war."—Chicago Tribune.
"Platoon Leader: A Memoir of Command in Combat", by James R. McDonough
(from Ep.29)
A remarkable memoir of small-unit leadership and the coming of age of a young soldier in combat in Vietnam.'
Steel My Soldiers' Hearts, by David Hackworth
(from Ep.28)
In January 1969, one of the most promising young lieutenant colonels the US Army had ever seen touched down in Vietnam for his second tour of duty, which would turn out to be his most daring and legendary.
How to be Strong, Healthy, and Happy, by Bob Hoffman
(from Ep.27)
"Part of the success of my work, I believe, has been the result of my willingness to make of myself a human guinea pig, in order to prove on my own body the practicability and truth of the training system and methods of living I advocate.
I Remember the Last War, by Bob Hoffman
(from Ep.27)
"I was phenomenally lucky, so I will tell our story, will try to tell you something of what happened over there. There have been war books written by other men who were better writers than I—more fitted to place what they saw upon the printed page.
Omaha Beach and Beyond: The Long March of Sgt. Bob Slaughter
(from Ep. 26)
"Slaughter vividly conveys the reality of combat during World War II in his book with sweeping passages that literally place his reader on the battlefield beside him." Belvoir Eagle
Before D-Day, regular army soldiers called the National Guardsmen of Virginia's 116th Infantry Regiment "Home Nannies" and "Weekend Warriors" and worse. On June 6, 1944, on Omaha Beach, however, these proud Virginians who carried the legacy of the famed Stonewall Brigade showed the regular army and the world what true valor really was.
Unflinching: The Making of a Canadian Sniper
(from Ep. 24)
Elite sniper Jody Mitic loved being a soldier. His raw, candid, and engrossing memoir follows his personal journey into the Canadian military, through sniper training, and firefights in Afghanistan, culminating on the fateful night when he stepped on a landmine and lost both of his legs below the knees.
(from Ep. 23)
The Art of War is almost certainly the most famous study of strategy ever written and has had an extraordinary influence on the history of warfare. The principles Sun-tzu expounded were utilized brilliantly by such great Asian war leaders as Mao Tse-tung, Giap, and Yamamoto. First translated two hundred years ago by a French missionary, Sun-tzu's Art of War has been credited with influencing Napoleon, the German General Staff, and even the planning for Desert Storm.
Nothing to Envy: Ordinary Lives in North Korea
(from Ep. 22)
Award-winning journalist Barbara Demick follows the lives of six North Korean citizens over fifteen years—a chaotic period that saw the death of Kim Il-sung, the rise to power of his son Kim Jong-il, and a devastating famine that killed one-fifth of the population. Demick brings to life what it means to be living under the most repressive totalitarian regime today—an Orwellian world that is by choice not connected to the Internet, where displays of affection are punished, informants are rewarded, and an offhand remark can send a person to the gulag for life. Demick takes us deep inside the country,
Guerrilla Warfare, by Mao Tse-Tung
(from Ep. 20)
The book is written in the context of China's guerrilla war against Japanese occupiers; this conflict is mentioned often by Mao. In this book Mao discusses the differences between guerrilla and "orthodox" military forces, as well as how such forces can work together for a common goal. Other topics covered include propaganda and political concerns, the formation of guerrilla units, the qualities of a good guerrilla officer, discipline in a guerrilla army, and guerrilla bases.
Text: English (translation) Original Language: Chinese
Red Blood, Black Sand, by Chuck Tatum
(From Ep. 19)
When Chuck Tatum began Marine boot camp, he was just a smart-aleck teenager eager to serve his country. Little did he know that he would be training under a living legend of the Corps—Medal of Honor recipient John Basilone, who had almost single-handedly fought off a Japanese force of three thousand on Guadalcanal.
One Soldier's War, by Arkady Babchenko
(From Ep. 18)
One Soldier's War is a visceral and unflinching memoir of a young Russian soldier's experience in the Chechen wars that brilliantly captures the fear, drudgery, chaos, and brutality of modern combat. An excerpt of the book was hailed by Tibor Fisher in the Guardian as "right up there with Catch-22 and Michael Herr's Dispatches," and the book won Russia's inaugural Debut Prize, which recognizes authors who write "despite, not because of, their life circumstances."
Beyond Band of Brothers, by Dick Winters
(From Ep. 17)
They were called Easy Company, but their mission was never easy. Immortalized as the Band of Brothers, they suffered 150% casualties while liberating Europe?an unparalleled record of bravery under fire. Winner of the Distinguished Service Cross, Dick Winters was their legendary commander. This is his story, told in his own words for the first time.
Machete Season: The Killers Speak, By Jean Hatzfeld 
 (From Ep. 16)
During the spring of 1994, in a tiny country called Rwanda, some 800,000 people were hacked to death, one by one, by their neighbors in a gruesome civil war. Several years later, journalist Jean Hatzfeld traveled to Rwanda to interview ten participants in the killings…
Henry V, By William Shakespeare 
(From Ep. 15)
Henry V is Shakespeare's most famous "war play"; it includes the storied English victory over the French at Agincourt. Some of it glorifies war, especially the choruses and Henry's speeches urging his troops into battle.
Storm of Steel, By Ernst Junger 
(From Ep. 14)
A memoir of astonishing power, savagery, and ashen lyricism, Storm of Steel illuminates not only the horrors but also the fascination of total war, seen through the eyes of an ordinary German soldier.
The Forgotten Highlander, By Alistair Urquhart 
(From Ep. 12)
Alistair Urquhart was among the Gordon Highlanders captured by the Japanese in Singapore during World War II. He not only survived 750 days in the jungle working as a slave on the notorious "death railway" and the bridge on the River Kwai, but he was subsequently taken prisoner on one of the Japanese "hellships" which was later torpedoed, killing nearly everyone on board—but not Urquhart.
With The Old Breed, By E. B. Sledge 
(From Ep. 10)
"Eugene Sledge became more than a legend with his memoir, With The Old Breed. He became a chronicler, a historian, a storyteller who turns the extremes of the war in the Pacific—the terror, the camaraderie, the banal and the extraordinary—into terms we mortals can grasp."—Tom Hanks
About Face: The Odyssey of an American Warrior
(From Ep. 2)
Called "everything a twentieth century war memoir could possibly be" by The New York Times, this national bestseller by Colonel David H. Hackworth presents a vivid and powerful portrait of a life of patriotism.[/vc_column_text][/vc_column][/vc_row]